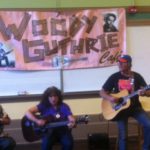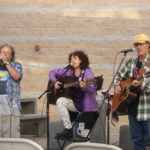 ReSisters flier – Berkeley House Concert – 2017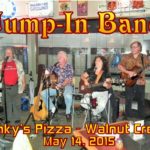 Hali Hammer is an award winning singer-songwriter who is experienced at playing in varied styles and settings, a founding member of Occupella (which plays at political rallies and causes), and is with The ReSisters (a trio focusing on political parodies). The Hali Hammer Band performs Hali's originals as well as those of Randy Berge (lead guitar) and Paul Herzoff  (harmonica). She plays guitar, electric bass, some piano, and is also a sound engineer.
Hali is inspired to write by what she observes in the world around her. She most often composes songs with a funny or positive slant, although she is not shy about tackling serious issues head-on. She is a mother, grandmother, and great-grandmother, and a retired special education teacher.
Hali joined her first  band in 1968 while she attended Queens College in NY, and went on to play both with other musicians and as a solo act from then on. She was a member of Citizens to Save Minnewaska in upstate New York, and had the inspiration for and helped produce the compilation album "Save the Mountain" in 1981 which aided in funding the legal fight. The property is now Minnewaska Lake State Park.
Moving to the Bay Area from her native New York she joined Freedom Song Network in 1985 and was a member of the chorus that sang onstage behind Nelson Mandela at the Oakland Coliseum. Her song Bottom of the Ninth was aired on KNBR-San Francisco preceding the first game of the 1989 Bay Bridge World Series. She became active in the San Francisco Folk Music Club (she is currently the Vice President) and was the coordinator of the 2003 Berkeley Free Folk Festival. Hali created and produced Sing Out for Earth Day, a video montage of 33 groups across the nation singing This Land Is Your Land on April 22, 2012, in the same key (D) and at the same time (noon Pacific, 1 pm Mountain, 2 pm Central, 3 pm Eastern). It debuted at a screening in SF that July 14th on the 100th  anniversary of Woody Guthrie's birthday, and is on You Tube. Hali was on the Save the Berkeley Post Office Committee (the post office is still there), and is on the People's Park Council (the Park is still there). She worked with Country Joe McDonald, organizing a Protest Music Festival which was held at the Berkeley Unitarian Fellowship for several years. She has been listed in Who's Who of American Women.
Aside from Days of My Life, her latest CD, Hali has four other CDs: I Refuse to Believe, Gypsy-O, The Best of Hali Hammer, and Eclectic Circus.